Automation Fair®, Booth #1317: MVP Tips for Your Applications, Prizes, and More!
Learn More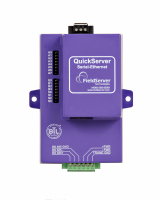 EtherNet/IP to BACnet MS/TP or BACnet/IP QuickServer Gateways
PS-QS-1x10-0780
FieldServer's EtherNet/IP™ to BACnet/IP® or BACnet MS/TP QuickServer communication gateways allows high-speed bi-directional data transfers between EtherNet/IP™ enabled controllers or devices and BACnet/IP® or BACnet MS/TP controllers or devices.

These gateways come in other wise functionally identical 250 data point (PS-QS-1010-0780) and 500 data point (PS-QS-1510-0780) variations and require no additional software purchase for configuration or diagnostics. The introduction of the free FieldServer Toolbox software and built in web GUI has dramatically simplified gateway discovery, configuration uploading and downloading, and accessing communication diagnostics. Further, the addition of both improved, more detailed, sample configuration files, as well as our step by step tutorial video, has made first time commissioning easier than it's ever been!
特性 优势
Ability to interface up to 250 or 500 points of common BAS protocols depending on gateway
Multi-configuration capability; specific configurations selectable via DIP switches or software
DIN rail mount included with gateway
DIP switches to select baud rate or node ID on the fly
BACnet COV support for fast data communication while reducing the traffic over a BACnet network. BTL Marked (PS-QS-1X10-XXXX)
规格
Field Connections
Ethernet 10/100 RJ45
Two Serial RS-485 terminal (up to 115K baud)
Environment
Operating temperature: -40°F to 167°F (-40°C to 75°C)
Relative humidity: 5% to 90% RH, with no condensation
Power Requirements
9 to 30 Vdc or Vac or 5 Vdc
Current draw 150mA @ 12VOther
Configuration/Diagnostic utilities
Capacity: 250 or 500 Points
Table, Wall or DIN rail mount
Physical Dimensions (WxDxH)
4.5 x 3.2 x 1.6 in. (11.5 x 8.3 x 4.1 cm)
0.4 lbs (0.2 Kg)Approvals
TUV approved to UL 916 standard
CE Mark
BTL Mark (PS-QS-1010)
RoHS Compliant
FCC Part 15 Compliant
硬件
Field Connections
Ethernet 10/100 RJ45
Serial RS-485 terminal (up to 115K baud)
FTT-10 LonWorks port
Environment
Operating temperature: -40°F to 167°F (-40°C to 75°C)
Relative humidity: 5% to 90% RH, with no condensation
Power Requirements
9 to 30 Vdc or Vac or 5 Vdc
Current draw 279mA @ 12Vdc
Other
Configuration/Diagnostic utilities
Capacity: 250 or 500 Points
Table, Wall or DIN rail mount
Physical Dimensions (WxDxH)
4.5 x 3.2 x 1.6 in. (11.5 x 8.3 x 4.1 cm)
0.4 lbs (0.2 Kg)
Approvals
TUV approved to UL 916 standard
CE Mark
BTL Mark (PS-QS-1010)
RoHS Compliant
FCC Part 15 Compliant