Automation Fair®, Booth #1317: MVP Tips for Your Applications, Prizes, and More!
Learn More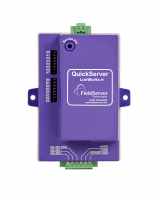 EtherNet/IP to LonWorks QuickServer Gateways
PS-QS-1x11-0783
The QuickServer line of communication gateways are designed to link building automation drivennetworks with industrial control networks. The QuickServer gateways are available with limits of up to250 or 500 points of application data.
特性 优势
Ability to interface up to 250 or 500 points of common BAS protocols depending on gateway
Multi-configuration capability; specific configurations selectable via DIP switches or software
DIN rail mount included with gateway
DIP switches to select baud rate or node ID on the fly
BACnet COV support for fast data communication while reducing the traffic over a BACnet network. BTL Marked (PS-QS-1X10-XXXX) and LonMark Certified (PS-QS-1X11-XXXX)
规格
Field Connections
Ethernet 10/100 RJ45
Two Serial RS-485 terminal (up to 115K baud)
Other
Configuration/Diagnostic utilities
Capacity: 250 or 500 Points
Table, Wall or DIN rail mount
硬件
Field Connections
Ethernet 10/100 RJ45
Serial RS-485 terminal (up to 115K baud)
FTT-10 LonWorks port
Environment
Operating temperature: -40°F to 167°F (-40°C to 75°C)
Relative humidity: 5% to 90% RH, with no condensation
Power Requirements
9 to 30 Vdc or Vac or 5 Vdc
Current draw 279mA @ 12Vdc
Other
Configuration/Diagnostic utilities
Capacity: 250 or 500 Points
Table, Wall or DIN rail mount
Physical Dimensions (WxDxH)
4.5 x 3.2 x 1.6 in. (11.5 x 8.3 x 4.1 cm)
0.4 lbs (0.2 Kg)
Approvals
TUV approved to UL 916 standard
CE Mark
BTL Mark (PS-QS-1010)
RoHS Compliant
FCC Part 15 Compliant