Automation Fair®, Booth #1317: MVP Tips for Your Applications, Prizes, and More!
Learn More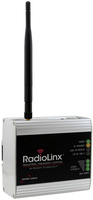 Industrial Frequency Hopping 900 MHz Serial (FCC)
RLX-IFH9S-A
The RLX-IFH9S provides powerful and secure wireless serial communications and is well suited for demanding, long-range (up to 30+ miles) SCADA and other serial applications in tough environments. Operating in the license-free 900 MHz band, the RLX-IFH9S penetrates foliage and walls / ceilings better than higher frequency radios. With both RS-232 and RS-485 serial ports, serial protocols such as Modbus RTU, DF1, ASCII and DNP3 are supported. The RLX-IFH9S is user configurable as a master, repeater and remote radio and employs the 128 bit AES encryption algorithm approved by the United States government for top secret information.
RLX-IFH9S radios are quickly and easily configured using the included, graphical ControlScape software. An OPC server software is also included and allows users to monitor radio network health with any OPC client based HMI software.
特性 优势
| | |
| --- | --- |
| Powerful 900 MHz Serial | 230 kbps RF data rate at up to 30+ milesLonger wavelength of the unlicensed 900 MHz band for superior wireless signal propagation vs. higher frequency unlicensed wireless bands |
| Rugged and Powerful | Up to one watt transmit power for long distanceProgrammable frequencies to co-exist with other wireless networks or avoid interferenceMetal enclosure, industrial operating temperatures, vibration and shock resistantCertification Pending for use in hazardous locations (UL1604 /ISA 12.12.01 Class I Div 2) |
| Strong Data and Network Security | 128 bit AES EncryptionProprietary FHSS not detected by 802.11 wireless |
| Easy to Configure and Monitor | Graphical representation of network for configuration and diagnosticsAdvanced diagnostics including VSWR, temperature, and signal qualityIncluded OPC Server for HMI-based RF network diagnostics |
| Backed by ProSoft Technology® | Industrial data communications experts who understand your protocols, devices, and applicationsIndoor/outdoor radio network design assistance – accessory selection, path studies, and site surveyThree year standard warranty |
规格
Frequency

902-928 MHz

Security

128 bit AES encryption

Network Topology

Point-to-point, point-to-multipoint, store and forward repeater

Error Detection

32 bit CRC, ARQ (Automatic Resend Query)

Radio Type

Frequency Hopping Spread Spectrum

Transmit Power (Programmable)

100 mW to 1 W
20 dBm to 30 dBm

Channel data rates (Programmable)

230, 172, 115 or 19.2 kbps

Receiver Sensitivity (Typical)

230 kbps: -106 dBm @ 10-6 BER
172 kbps: -108 dBm @ 10-6 BER
19.2 kbps: -116 dBm @ 10-6 BER

Outdoor Range

30+ miles pt-pt with high gain directional antennas and RF line-of-sight
硬件
Enclosure

Extruded aluminum with DIN and panel mount

Size

104 x 94 x 53 mm (W x H x D)
4.1 x 3.7 x 2.1 inches

Vibration

IEC 60068 2-6 (20g, 3-Axis)

Shock

IEC 60068 2-27 (5g, 10Hz to 150Hz)

Serial Data Ports (2)

DB9, RS-232

RS-422 and RS-485

300 bps to 230 kbps

Configuration Port

DB9, RS-232

Antenna Ports

(1) RP-SMA connector

Weight

1.0 lbs (454 g)