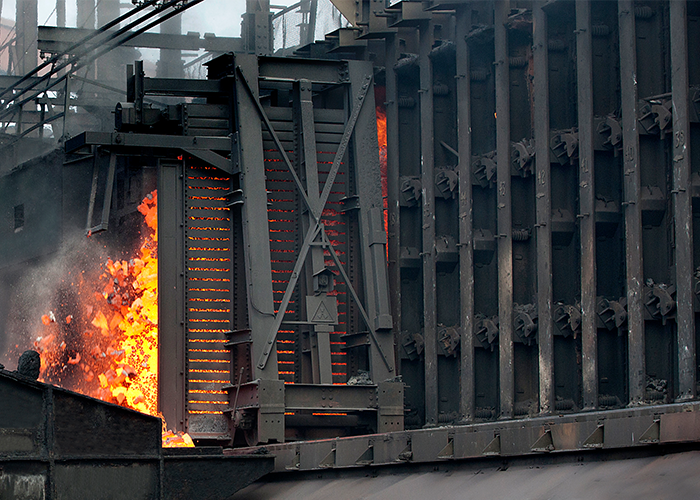 Communicating near a hot coke oven? Not a problem for the Weatherproof Hotspot
After nearly 90 years in business, ArcelorMittal South Africa's reputation as a giant in the steel industry is well-earned. The company – part of the global ArcelorMittal group, which has 222,000 employees around the world – has a typical annual production capacity of 6 million tons of liquid steel, which eventually ends with 4.8 million tons of steel products that can be sold. They supply more than 61 percent of the country's steel.
That level of production requires a highly efficient and productive system. To ensure that, reliable communications is implemented across the board, the equipment that is used needs to meet the requirements of such a harsh environment.
As part of their process, ArcelorMittal South Africa has a number of pusher cars that push coke (converted coal) into the oven. During this part of the manufacturing process, the heat and potential for fire is extreme. The company needed a communication solution that could hold up in such an environment. The pusher cars were each fitted with a Rockwell Automation® controller – either a ControlLogix® or an SLC™ 500. The controllers linked back to the main control network.
That communication was handled via radios, and the company knew they needed to be reliable. They found that their current radios were out of production and therefore not reliable enough for their needs. With that said, it was noted that the reliability issue may have been due to radio frequency reflections on the system.
The company borrowed ProSoft Technology's Weatherproof Hotspots to test the communication solution in their heated environment. The radio has an operating temperature range of -40°F to 167°F (-40°C to 75°C), and features an IP66/67 rating. The radios were paired with MIMO antennas, which helped boost the communication network's reliability as well.
"We appreciated that ProSoft allowed us to test the radios before we made our final decision to purchase them. Their technical assistance was excellent as well. By pairing the radios with MIMO antennas, we've increased efficiency and decreased downtime, and found a solution that is more reliable," said ArcelorMittal South Africa, electrical technician Godfrey Ngcana.
Learn more about ProSoft Technology's Industrial Wireless Solutions at http://psft.com/CFH.