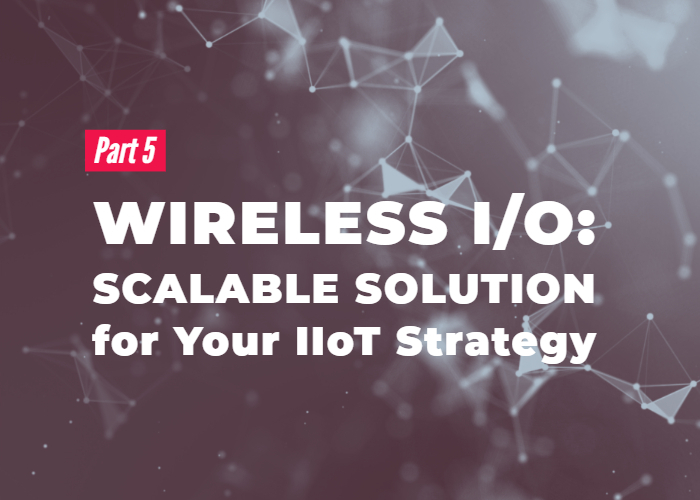 Wireless I/O: Scalable Solution for your IIoT Strategy
Wireless technology has proven to be a valuable communication mode for industrial applications, but industrial I/O has been central for many companies as well.
In wireless I/O solutions, companies are combining the two in a simple and reliable option for indoor and outdoor applications.
As we've discussed in this series, connected devices have become the norm across most industries. IIoT-based equipment has helped bring more signals and information into modern control systems, which has helped companies better assess performance, predict maintenance, and more.
The importance of this knowledge has highlighted the need for greater reliability and scalability in order to improve productivity. Implementing wireless I/O can help companies collect signals in process and control applications.
Other benefits of Wireless I/O
In addition to being a reliable source for signal collection, wireless I/O has several benefits over its wired predecessors:
· Significantly less prep work: If you've ever had to run cable, you know what we mean. With wireless I/O you can forgo the permits, trenching, and conduit required for wired I/O communication.
· Reduced maintenance: The especially unenjoyable part of the work listed above? If wires get damaged, you get to do that all over again – and that whole time, you're losing out on data that could be put to use improving your operation.
· Streamlined setup: With wireless I/O solutions, you generally are able to reduce setup time. They feature plug-and-produce startup, a major time-saving benefit.
· Flexibility and scalability: Wireless I/O solutions are available in point-to-point or point-to-multipoint architectures, making them ideal for applications whose locations and I/O needs require flexibility. Equally important? Those architectures and the quick setup mean that if new points need to be set up as an application expands, the work is quick and painless.
If you'd like more information about wireless I/O or any of the topics discussed in this series, please let us know! We can help you determine the best solution to fit your application.
This is the final post of a five-part series focused on wireless connectivity and its effect on industry. Make sure to check out the past four installments:
· Part 1: How Connected Are You?
· Part 2: Wireless: The Foundation for IIoT Applications
· Part 3: Wireless LAN and the IIoT