Wireless Radios Help Reduce Costs and Downtime for Manufacturing Company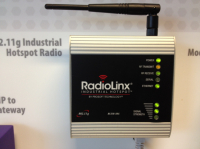 A legacy slip ring automation system was replaced with a new high-tech solution using ProSoft Technology's radios to communicate via EtherNet/IP™ to CompactLogix™ and FLEX™ I/O, saving the end user thousands in investments and downtime.
The need
A manufacturing company that makes powders from agricultural products began experiencing automation problems in one of its silos. The legacy control system used slip rings and a relay-based system. Because slip rings are subject to constant movement, they need continual maintenance to avoid degradation of the rotating electrical connection caused by normal wear and debris. When a slip ring fails, production stops and critical data packets can sometimes be dropped.
The solution
Original estimates to replace the slip ring contacts were 60,000 to 80,000 euros. So, Rockwell Automation®, together with Stevens Engineering, offered the end user a more viable solution. The new automation architecture incorporates CompactLogix and FLEX I/O PLCs transferring data wirelessly via EtherNet/IP using ProSoft Technology's industrial radios.
The benefits
From the end user's point of view, there are multiple benefits to this new system. First, the cost for the wireless system was much less than the cost to replace the slip rings. Second, the short implementation time necessary for configuring and installing the three radios dramatically reduced factory downtime. And lastly, the silo now operates without any communication issues and no maintenance is necessary to keep this new system operating at peak performance.
Learn more about ProSoft Technology's Industrial Wireless Solutions here.