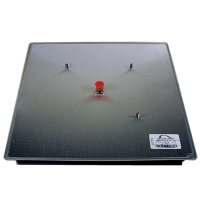 2.4 GHz Panel/Patch Antennas
A2408NJ-DP, A2413NJ-DP, A2419NJ-DP
The RadioLinx Directional Panel/Patch Antennas are designed to cover the 2.45 GHz ISM band obtaining maximum gain with an attractive, low profile package. All models provide efficient and stable performance across the band and can be mounted indoors or outdoors.
特性 优势
Flexibility

Pole Mount Or Surface Mount
Type N female Connector
Vertical or Horizontal Polarization

Durable and Reliable

Functionality

High gain / Low profile / Wide band
All antennas have been tested for compatibility with RadioLinx products. Please see our Antenna Selection Guide to assist you in choosing the best antenna for your application.
规格
General Specifications
| | |
| --- | --- |
| Cross Polarization | 25 dB |
| Lightning Protection | Direct Ground |
| Mounting Method | Mounting brackets included |
| Termination | Type N jack |
硬件
Electrical Specifications
| | | |
| --- | --- | --- |
| Product # | Frequency Range | Gain |
| A2408NJ-DP | 2.4 to 2.5 GHz | 8.5 dBi |
| A2413NJ-DP | 2.4 to 2.5 GHz | 13 dBi |
| A2419NJ-DP | 2.4 to 2.5 GHz | 19 dBi |
| | | |
| --- | --- | --- |
| Product # | Front-to-Back Ratio | Max Power |
| A2408NJ-DP | > 30 dB | 100 W |
| A2413NJ-DP | > 30 dB | 100 W |
| A2419NJ-DP | > 30 dB | 100 W |
| | | | |
| --- | --- | --- | --- |
| Product # | Horizontal Beamwidth | Vertical Beamwidth | VSWR |
| A2408NJ-DP | 60° | 60° | < 1.5:1 |
| A2413NJ-DP | 38° | 38° | < 1.5:1 |
| A2419NJ-DP | 18° | 18° | < 1.5:1 |
Mechanical Specifications
| | | |
| --- | --- | --- |
| Product # | Wind/ice loading area | Lateral Thrust @ 100 mph |
| A2408NJ-DP | 26.5 in² (171 cm²) | 5 lbs (11 kg) |
| A2413NJ-DP | 72 in² (466 cm²) | 10 lbs (22 kg) |
| A2419NJ-DP | 240 in² (1552 cm²) | 15 lbs (33 kg) |
| | |
| --- | --- |
| Product # | Torsional moment @ 100 mph with standard mounting |
| A2408NJ-DP | 0.1 ft/lbs (0.22 m/kg) |
| A2413NJ-DP | 0.2 ft/lbs (0.22 m/kg) |
| A2419NJ-DP | 0.4 ft/lbs (0.88 m/kg) |
Product #

Dimensions

A2408NJ-DP

5.15 in. W x 5.15 in. H x .82 in. D

(13.1 x 13.1 x 2.1 cm)

A2413NJ-DP

8.5 in. W x 8.5 in. H x 1.125 in. D

(21.6 x 21.6 x 2.8 cm)

A2419NJ-DP

15.5 in. W x 15.5 in. H x 1.125 in. D

(39.4 x 39.4 x 2.8 cm)