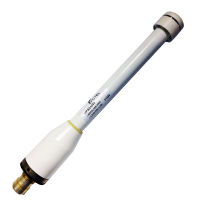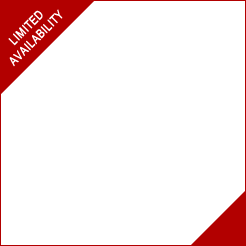 2.4 GHz Base Station Antenna
A2404/08NJ-OC
The RadioLinx wireless broadband Omnidirectional Base Station Antennas are designed to provide maximum performance and reliability under the toughest weather conditions. These antennas feature a U.V. stable, vented radome that provides the ultimate protection against weather elements. The antennas can be mast, wall, or ceiling mounted.These antennas are typically composed of several linear antennas stacked on top of each other. The number of stacked elements increases the gain of this antenna which is typically between 5 to 8 dBi depending on the number of elements. This array of antennas provides an omni-directional pattern. Polarity is linear, parallel to the length of the antenna.
特性 优势
UV stable, pultruded fiberglass radome. Allows outdoor installation even in harsh climates.
Vented system design provides reliable performance by protecting the electrical design against extreme moisture and/or temperatures.
Thread relief on connector. Improved accessibility for taping reduces installation time and improves overall effectiveness.
Internal O-ring seal in the base of the antenna with integrated connector at the base. Ensures a watertight seal to prevent water from migrating into the antenna connector.
Electrical downtilt options on select models provide system planners flexibility in challenging operating environments.
应用程序
All antennas have been tested for compatibility with RadioLinx products. Please see our Antenna Selection Guide to assist you in choosing the best antenna for your application.
规格
General Specifications
Radome Material

UV resistant pultruded fiberglass

Polarization

Vertical

Nominal Impedance

50 Ohms

Mounting Base Diameter

1.25 inches

Mounting Method

RLX-MMK-1924: L-bracket mount for wall or pipe mount

RLX-MMK8: Aluminum extruded bracket for mast mounting

RLX-MMK11: Ceiling mount bracket

Termination

Type N jack standard with all models
硬件
Electrical Specifications
| | | | |
| --- | --- | --- | --- |
| Model # | Frequency | Gain | Bandwidth @ 1.5:1 WVSR |
| A2404NJ-OC | 2400-2483.5 MHz | 4 dBi | 100 MHz |
| A2406NJ-OC | 2400-2483.5 MHz | 6 dBi | 100 MHz |
| A2408NJ-OC | 2400-2483.5 MHz | 8 dBi | 100 MHz |
| | | | | |
| --- | --- | --- | --- | --- |
| Model # | Vertical Beamwidth @ ½ Power | VSWR | Max Power | Downtilt |
| A2404NJ-OC | 30° | < 1.5:1 | 25 Watts | N/A |
| A2406NJ-OC | 20° | < 1.5:1 | 25 Watts | N/A |
| A2408NJ-OC | 13° | < 1.5:1 | 25 Watts | N/A |
Mechanical Specifications
| | | | |
| --- | --- | --- | --- |
| Model # | Wind Survival | Equivalent Flat Plate Area | Lateral Thrust @ Rated Wind |
| A2404NJ-OC | 125 mph | .02 ft2 | 2.1 lbs |
| A2406NJ-OC | 125 mph | .04 ft2 | 3.0 lbs |
| A2408NJ-OC | 125 mph | .06 ft2 | 5.2 lbs |
| | | | |
| --- | --- | --- | --- |
| Model # | Bending Movement @ Rated Wind | Height | Weight |
| A2404NJ-OC | 0.7 ft-lbs | 8.1" (294.6 mm) | 0.34 lbs (0.172 kg) |
| A2406NJ-OC | 1.4 ft-lbs | 11.6" (294.6 mm) | 0.38 lbs (0.172 kg) |
| A2408NJ-OC | 4.4 ft-lbs | 20.2" (513.1 mm) | 0.50 lbs (0.226 kg) |
Mounting Hardware
Part #

Description

Included with

Works with

RLX-MMK8

Mounting bracket for mounting a 1 ¼ inch diameter antenna to a 2 inch diameter mast

A2404NJ-OC

A2406NJ-OC

A2408NJ-OC

A2404NJ-OC

A2406NJ-OC

A2408NJ-OC

RLX-MMK11

Ceiling mount bracket for 2.4 GHz

N/A

A2406NJ-OC

A2408NJ-OC

RLX-MMK1924

L bracket for mounting omnidirectional antennas to a 2 inch maximum diameter mast. Bracket is 6 inches long with a 5/8 diameter hole

N/A

A2404NJ-OC

A2406NJ-OC

A2408NJ-OC