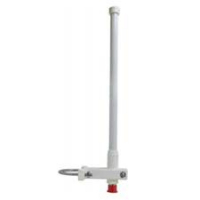 5 GHz Base Station Antenna
A5006NJ-OC, A5009NJ-OC
The 5 GHz Omnidirectional Base Station Series antennas are optimized for use in a wide variety of wireless systems. Typical uses include WLAN access points or bridge (802.11a), and surveillance transmitters.
These antennas are designed to provide maximum performance under the toughest weather conditions. The antennas can be mast or wall mounted.
特性 优势
UV stable, pultruded fiberglass radome. Allows outdoor installation even in harsh climates
6 dBi and 9 dBi antennas provide uniform omni coverage
Unique design allows economical build out
Mounting kit includes all hardware needed
Windloading is insignificant
Antenna terminates with an integrated N female
应用程序
All antennas have been tested for compatibility with RadioLinx products. Please see our Antenna Selection Guide to assist you in choosing the best antenna for your application.
规格
General Specifications
| | |
| --- | --- |
| Radome Material | Fiberglass |
| Polarization | Vertical |
| Nominal Impedance | 50 Ohms |
| Mounting Base Diameter | Use mast up to 2" |
| Mounting Method | Mast mount kit included |
| Termination | Type N jack |
硬件
Electrical Specifications
| | | |
| --- | --- | --- |
| Product # | Frequency | Gain |
| A5006NJ-OC | 5.0 to 6.0 GHz | 6 dBi |
| A5009NJ-OC | 5.0 to 6.0 GHz | 9 dBi |
| | | |
| --- | --- | --- |
| Product # | Vertical Beamwidth (3 dB point) | Maximum Power |
| A5006NJ-OC | 25° | 25 Watts |
| A5009NJ-OC | 14° | 25 Watts |
Mechanical Specifications
| | | |
| --- | --- | --- |
| Product # | Wind Survival | Equivalent Flat Plate Area |
| A5006NJ-OC | 125+ mph | 10 to 40 Sq. inch |
| A5009NJ-OC | 125+ mph | 10 to 40 Sq. inch |
| | | |
| --- | --- | --- |
| Product # | Dimensions | Weight |
| A5006NJ-OC | 11"H x 0.63" at radome, .9" at base | < 0.75 lbs |
| A5009NJ-OC | 15" H x .63" at radome, .9" at base | < 0.75 lbs |