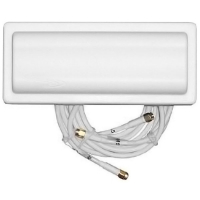 Multi-Band 2.5/4dBi Omni MIMO Antenna
A2503S3-O
The A2503S3-O is a dual-band three-element omnidirectional antenna for use in 802.11n MIMO applications. Housed in a compact, low-profile radome, the antenna can be mounted on a mast, cabinet, or ceiling. It can also be mounted to a flush surface via the four mounting holes. Each of the three MIMO antenna elements is connected to the radio via a low loss, plenum-rated coax pigtail. The radiation patterns are uniform and symmetrical, providing high-level signal density into defined coverage zones. This antenna will greatly enhance the performance of 802.11n systems. The dual band frequency coverage means that a single type of antenna can be deployed for 2.4-2.5 GHz band and 5.15 to 5.85 GHz band applications.
特性 优势
Features

Benefits

MIMO (Multi Input, Multi Output)

Three antennas within a single enclosure
Send more data simultaneously, or
Improve the ability of the radio to receive weak signals, therefore giving better range

Multi-Band

2.4 and 5 GHz support for maximum versatility
Maximizes 802.11n throughput through channel bonding using multiple frequency ranges
Allows 802.11n radio to determine optimal rate to use based on environmental conditions and endpoint capabilities

Omnidirectional

Link multiple directional antennas in outdoor point-to-multipoint communication systems
Cover large areas efficiently with 360-degree signal pattern
Signal available to all radios within range

Backed by ProSoft Technology

20-year history of delivering high-quality, reliable solutions designed with you in mind
Free, unlimited, worldwide Technical Support by phone anytime for pre-sale, set-up, or troubleshooting support help you get going sooner and stay running longer
Three-Year Warranty ensures reliability and protects against equipment failures
Free ProSoft Software tools tightly integrated with our gateway hardware...a simple and quick, total solution to help you make our gateways fit your applications
Indoor/outdoor radio network design assistance – accessory selection, path studies, and site survey
All antennas have been tested for compatibility with RadioLinx products. Please see the ProSoft Wireless Designer (PWD) configuration tool to assist you in choosing the best antenna for your application.
硬件
Frequency Range

2.4 to 2.5 & 5.15 to 5.85 GHz

Gain

2.5 dBi for 2.4 to 2.5 GHz, nominal

4 dBi for 5.15 to 5.85 GHz, nominal

Maximum VSWR

2.5:1

Vertical Beamwidth

60º

Horizontal Beamwidth

Omnidirectional

Polarization

Vertical

Maximum Input Power

50 watts

Mechanical Size

6.9 x 3.0 x 1.1 inches (17.526 x 7.62 x 2.794 cm)

Weight

0.75 lbs (0.34 kg)

Antenna Connection

RPSMA plug (3x)

Operating Temperature Range

-22 to 158 deg F ( -30º to 70º deg C)

Mount Style

Mast, surface, or ceiling