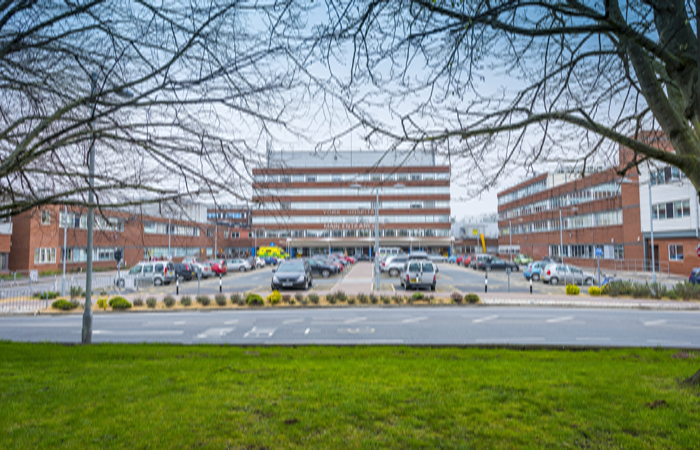 York Teaching Hospital NHS Foundation Trust set to see significant energy savings thanks to Vital Group's deployment of Rockwell Automation® solutions
Vital Efficienci replaces legacy energy control solution with a contemporary Allen-Bradley® Integrated Architecture in order to make continuous energy savings over the next 15 years.
Background
York Teaching Hospital NHS Foundation Trust was designed in the 1960s and built in the 1970s and, as such, much of its energy infrastructure is now reaching end of life. This gave the Trust the opportunity to make significant improvements in the way the hospital generates and consumes heat and power.
With over 8,000 staff, the Trust treats over 700,000 people per year, giving it similar energy requirements to a small town. Indeed, in 2012/13, the Trust had a combined gas and electricity bill of £2.45 million and emitted 13,586 tons of CO₂.
Following a competitive procurement process, the Vital Energi Group was selected to deliver a low-carbon energy solution, with guaranteed carbon and financial savings through its operating companies.
Vital Efficienci worked with Rockwell Automation to develop a bespoke energy-management and control solution that would help the Trust to both measure and manage its energy consumption, while giving Vital Energi Group real-time remote access into the site for ongoing management, balancing and monitoring.
Challenge
The project at York was procured and delivered in conjunction with the Carbon and Energy Fund, aprocurement framework created to facilitate and manage complex energy infrastructure upgrades for the NHS and wider public sector.
Vital Energi Utilities was responsible for delivering the overall project and Vital Efficienci delivered the complete SCADA solution, alongside the operating principals and philosophies, and optimization methodology developed for the plant. The control solution is split in two:
• The BMS – supplied by a specialist supply partner – which manages and optimizes the downstream energy assets
• The SCADA system, supplied by Vital Efficienci, which manages and optimizes the main energy center (boiler house), with its two main plant rooms, and uses an Allen-Bradley architecture.
Solution
The existing energy system comprised gas-fired steam boilers controlled by an older and now unsupported control architecture. The Trust decided to proceed with the ECS (Energy Control Solution) typically known as SCADA from Vital Efficienci, based primarily on Allen-Bradley Integrated Architecture products.
The Trust was actually the first client of the new system, and required a complete upgrade and deployment of a new control infrastructure. "We developed different modules into our ECS system which are unique to Vital Energi Group," said Kenneth Kunz, Technical & Operations Director at Vital Efficienci. "Our solution is very open, unlike other typical BMS systems, which can often be a little more 'black box'-like and closed. They are satisfactory for alarming and monitoring, but they are often not optimized for energy centers. We developed new modules to make it unique and make it different to the market."
Vital Efficienci did the coding in house and worked together with Rockwell Automation on the designand writing of software for the MBus protocol (communications). Standard industry power meters use MBus communications and, at the time, it was not possible to integrate these meters into the CompactLogix PACs. So the Rockwell Automation Global OEM Technical Consultant (GOTC) and Kunz wrote new software, which supported the implementation of certain power meters into the overall control system. "MBus is not a standard," Kunz explained, "but I found a serial communications module from ProSoft Technology (a Rockwell Automation Encompass™ Partner) within the Logix family, so we were able to develop an ASCII driver that would communicate with the MBus protocol. MBus is only really used for heat meters, but these days, more and more heat meters are offering the ability to use Modbus. We used MBus in York, but going forward we will use Modbus RTU/TCP-IP."
The Vital Efficienci ECS system runs on Allen-Bradley CompactLogix™ L33ER & L24ER programmable automation controllers running on a fiber EtherNet/IP™ network served by multiple I/O points and Stratix 5700™ managed Ethernet switches.
"We need these different interfaces because we have a lot of gas, steam, electrical, and heat meters around the energy center measuring set points," Kunz said. "These data points allow us to populate a daily CSV file with raw data, which is sent out at midnight to our head office in Blackburn and then stored in the cloud. The data, collected every 30 minutes, is then entered into specialist software so we can see where savings are being made and compare figures against desired set points."
Results
Brian Golding, the Trust's Energy Manager, said: "We wanted Vital to look at our fundamental aims: Reduce our carbon footprint, reduce our energy consumption, enhance our electricity resilience, and take the project forward 15 years."
"Brian is suitably impressed with our solution," Kunz said. "It was delivered and installed within the agreed timescales and has not experienced any issues after one year of operation, and is delivering the level of control and energy savings envisaged in the original design. The system will continue to be developed and with the flexibility and scalability of the Allen-Bradley Integrated Architecture can be easily deployed on existing systems, such as we have seen in York."