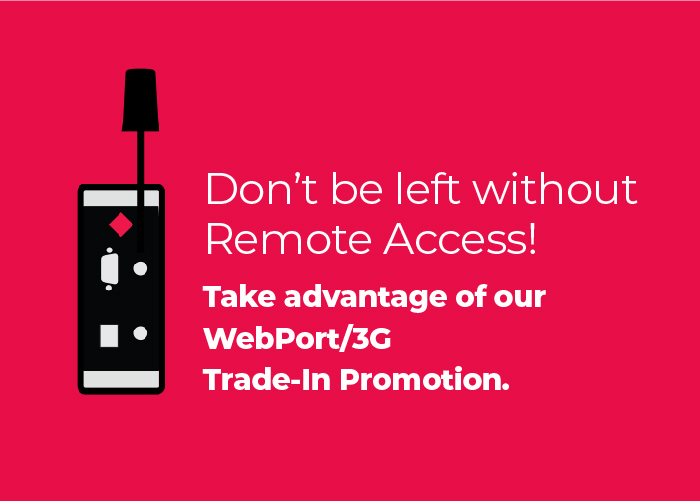 Concerned about WebPort or 3G Sunset? We've Got Great News
When you're monitoring equipment, reliability, security, and longevity are top of mind.
If you're a Spectrum WebPort user or have 3G solutions, recent news about each may have you a little concerned. The great news? ProSoft has launched a discount program that will help – and allow you to extend your application's longevity.
First up is the Spectrum WebPort news: You may have heard it moved to end-of-life status (you can read the details here). If you have a Spectrum WebPort in use in the field, we don't want you to be left hanging when the servers are turned off. To assist with this, ProSoft has put in place a trade-in program to make it easier for you to transition to a supported solution.
For many other remote access users, the 3G service sunset in many countries threatens to cut off that remote connectivity. If that's you, we have more good news: You can receive a 50% discount for ProSoft's cellular and wired remote access gateways by returning your WebPort gateways or any other brand's industrial remote access 3G gateways.
But wait, there's more …
Not to sound too much like an infomercial…but you're going to want to hear more about this, promise. We've got a special running through the end of the year: When you buy a new ProSoft remote access gateway, you'll now get 1 year of a 3x3 ProSoft Connect Power User Plan (PUP) at no cost (a USD 399.00 value).
The PUP plan allows you to expand the value of your Connect account, with increased security, user access, and data. ProSoft's exclusive Virtual Lockout-Tagout (vLOTO) feature is included with the PUP plan, giving you much better control and visibility into when and how your machines are accessed.
This promotion is available only through the end of 2019, so make sure to move quickly to secure a free PUP plan for your application. And if you'll be at Automation Fair®, make sure to stop by Booth 1018 to see remote access demos and learn more about ProSoft's cellular and wired gateways!
(The fine print for this: The 50% off discount only applies to orders that are received by December 31, 2019. Your trade-in units must be received by March 31, 2020 to receive the discount. The limit is 20 units per customer.)
For more details about these programs, contact your local ProSoft office or distributor!