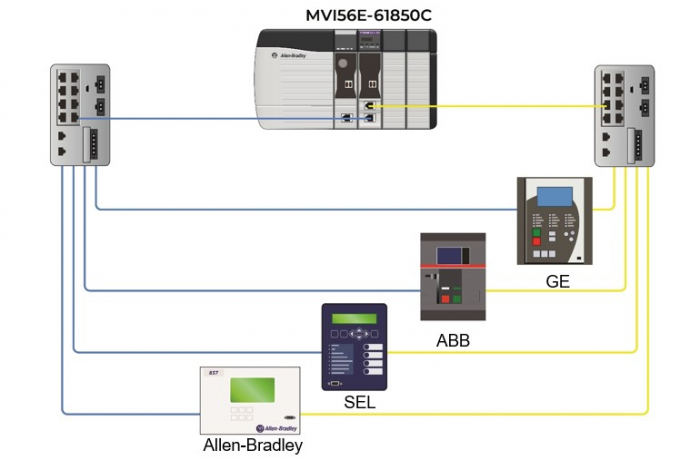 In-Rack IEC 61850 Solution Connects Power Protection Equipment to ControlLogix® System
Robust communications for power generation and distribution applications – and other heavy industries – is essential. Frequently, power protection relays (or IEDs) from different vendors use the IEC 61850 protocol. ProSoft Technology has helped companies around the world successfully connect these devices to Rockwell Automation® Logix-based controllers via a server in-rack module and a two-port gateway.
Now, both companies are excited to announce the first client in-rack module for ControlLogix® PACs. The new module integrates seamlessly with a library of electrical protection devices from Rockwell Automation.
Integrating the data you need
"Industrial customers in mining and metals to oil and gas face challenges to remain profitable while accommodating changing commodity pricing and regulations. Plus, they may be facing aging production infrastructure," said Andrew Schaeffler, Sr. Product Specialist at Rockwell Automation.
He explained, "Integrating reliable data is key to boosting productivity, operating efficiencies and safety." Solutions from Rockwell Automation and ProSoft Technology connect data, equipment control and power management in manufacturing and processing environments.
This pairing is especially ideal for high-performance applications. Each ProSoft IEC 61850 Client module supports up to 40 IEDs per network, and up to 225 I/O connections to the ControlLogix PAC. The PRP-enabled network also provides seamless failover of redundant networks.
Streamlined messaging and configuration
The new module also represents a first for ProSoft: It features the use of GOOSE Publisher, which is used to support GOOSE messaging for the product.
"Using GOOSE Publisher provides a mechanism to interlock relays or load shed using the IEC 61850 communications network. This can help eliminate the need for hard wiring to the I/O modules in the ControlLogix system, saving time and additional I/O points for the user," said Erik Syme, Director of Program Management at ProSoft Technology.
It's just one of the time-savers end users can expect with the new module.
Like most ProSoft modules, the new solution features premier integration tools to help ensure a streamlined setup within their Logix infrastructure.
"End users are able to save time with the configuration by taking advantage of the PlantPAx® system Add-on Profile and custom-generated Add-on Instruction," Syme said. "This helps seamlessly integrate into the Studio 5000® environment to automatically build complex user-defined data types and Studio 5000 tags based on IEC 61850 network configuration."
Learn more about the new IEC 61850 Client Module.
Syme recently provided an overview of how IEC 61850 is used in power applications, and how to connect networked devices to Rockwell Automation control systems. Check out his session below: