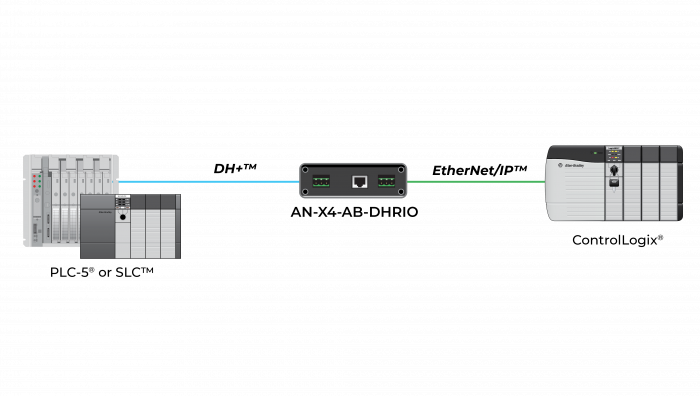 The Latest Modernization Gateway is Here
We're excited to announce that the latest phased modernization gateway is now available!
The new AN-X4 gateway allows you to take a phased approach when updating your legacy Allen-Bradley® DH+-based equipment. This type of technology is a game-changer for anyone who needs to modernize control systems: Installing the gateway allows you to keep the old system running in parallel to your newer equipment, allowing normal processes to keep functioning. The installation of the new gateway can be scheduled during a time when production may be normally offline.
This phased approach allows you to avoid the downtime of a traditional rip-and-replace modernization.
The DH+ Gateway's Modes
Currently, the new gateway supports two modes – both aimed at connecting your newer EtherNet/IP™-based equipment to your legacy DH+-based system.
One operating mode enables the downloading of PLC-5® or SLC™ programs to your controller via RSLinx®. To do so, the modernization gateway links an EtherNet/IP-based engineering terminal to the DH-based legacy control system.
The other operating mode directly links your new ControlLogix system to the legacy PLC-5 or SLC. The goal here is a key one in this process: You're able to gather the legacy system's data, which can then be used to help program the newer control system.
We're excited that the newest gateway is here and have updates on the horizon – stay tuned as ProSoft's modernization solutions continue to be updated!
Click here to learn about all of ProSoft's modernization solutions.