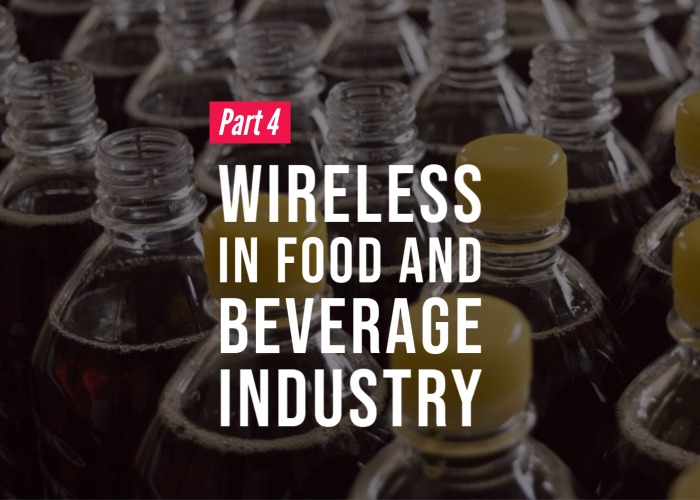 Wireless in Food and Beverage Applications
When it comes to manufacturers in the food and beverage industry, machine uptime is directly proportional to profitability. The connected nature of the IIoT has helped drive improvements with uptime through increased machine connectivity on the factory floor. Machine connectivity helps overcome the challenges often seen in the food and beverage industry, such as complex processes, product traceability, and quality control.
Machine builders in the food and beverage industry are oftentimes tasked with this challenge.
OT, IT, and Wireless
As part of this shift, food and beverage manufacturers are increasingly deploying OT and IT technologies to reduce both technical and business risk.
As machine builders implement these technologies into their solutions, it is important for this new infrastructure to be robust and flexible so it may reliably and easily be integrated into the infrastructure of their various customers. With different control systems and protocols used throughout the industry, a universal, secure technology is a must for machine builders who need to maintain their solution's longevity.
With OT technologies increasingly being deployed in the industry, food and beverage manufacturers are now able to improve their asset utilization with lower downtime, resulting in increased yield. This increased efficiency lowers the lifecycle costs of the machines, while simplifying the process and maintaining the high quality standards required in the industry.
The use of standardized control systems (for manufacturers) and machines (OEMs) also requires a similar connectivity that's not tied to a specific industrial protocol and can be easily scaled. OT technologies in particular require a robust connection – in many cases, industrial 802.11 wireless radios are used. A radio that sends data directly to standard control systems is an ideal option for machine builders with an eye toward efficiency during installation and maintenance of the equipment. For food and beverage applications, this wireless LAN radio provides the reliable connectivity that manufacturers need.
Increased Services for IT and OT
With this increased connectivity, machine builders are able to provide better services to their customers.
Historically, these services would simply be troubleshooting and fixing their equipment reactively. With increased connectivity, preventative and remote maintenance is easier than ever. A secure, web-based remote connectivity service allows machine builders to access equipment from anywhere – meaning decreased downtime for their client, and reduced travel time and costs. ProSoft Connect is an IT-secure and OT-friendly option, which helps machine builders further align with the business objectives of food and beverage manufacturers.
Learn more about industrial wireless solutions.
This is Part 4 in a five-part series focused on how wireless connectivity is used in a variety of automated applications! Check out the first three blogs, and stay posted for the final installment!
∙ Part 2: Wireless and Factory Automation Applications