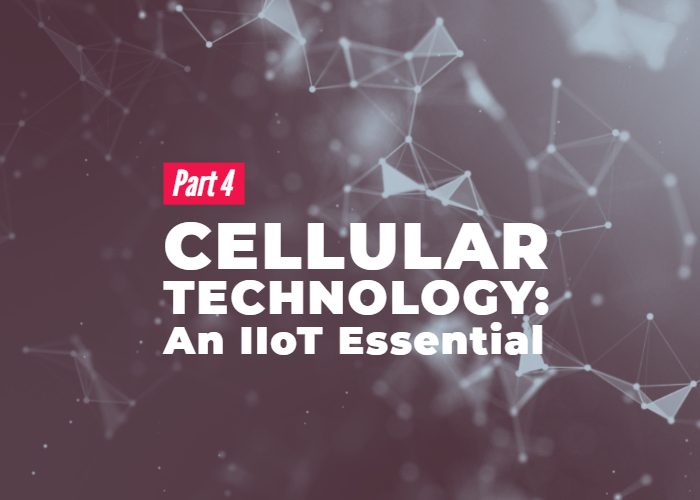 Cellular Technology: An IIoT Essential
Cellular technology has become ubiquitous in our personal and professional lives, and shows no signs of slowing down as a reliable communication resource.
Its staying power cannot be denied: 3G reigned for a while, 4G is now standard, and plenty are ready to see the benefits from 5G. Each cellular generation improves upon the previous iteration, which has helped make it an ideal technology for industrial applications around the world.
This reliability has meant cellular isn't just for buffer-free Netflix streaming; its most valuable purpose is worldwide connections that help companies improve efficiency. Need to monitor equipment in the UK from Seattle? Not a problem. Can't put a wired solution in a mine two continents away? All will be OK – add a 4G solution and you're golden. IIoT-equipped devices have never been easier to connect.
Remote connectivity and the cellular age
Cellular technology has helped make remotely accessing equipment more reliable – and secure.
Remote access has made it possible for companies to reduce downtime and improve efficiency by using cellular connections to monitor and troubleshoot equipment from their desk at home. Some solutions have been able to streamline setup and create a connection that lends the feeling of actually being on site – minus all that super-fun travel.
This technology isn't just helpful for far-ranging applications. Cellular solutions can be used to continuously monitor dispersed equipment, especially key for utilities and other users that have many sites. This kind of managed network is ideal for applications whose scope may change over the years – so, most applications. Cellular networks provide that flexibility to expand coverage as your coverage area grows.
One aspect that you need to be aware of when evaluating any remote access solution is security. Our top tips to ensure a secure remote access application include:
· Avoid a solution requiring user-installed software or software patches. By doing so, you eliminate a top avenue for hackers, as well as extra update work for your employees.
· Use a gateway that'll grant controlled access to outside vendors. This way, you can limit their visibility to areas that they need to see.
· A token-based approach to two-factor authentication is recommended instead of SMS-based authentication, which isn't as secure.
By using cellular technology to remotely access your equipment, you can realize many benefits – and that'll stay true for each generation of this reliable resource.
Learn more about security considerations for each zone of your facility – Machine, Enterprise, and Outside – in this white paper.
This is Part 4 of a five-part series focused on wireless connectivity and its effect on industry. Next up: A look at the scalable value of a Wireless I/O system, and how your IIoT strategy will benefit. Check out the previous installments below, and subscribe at the box to the right to make sure you don't miss the January conclusion!
· Part 1: How Connected Are You?
· Part 2: Wireless: The Foundation of IIoT Applications