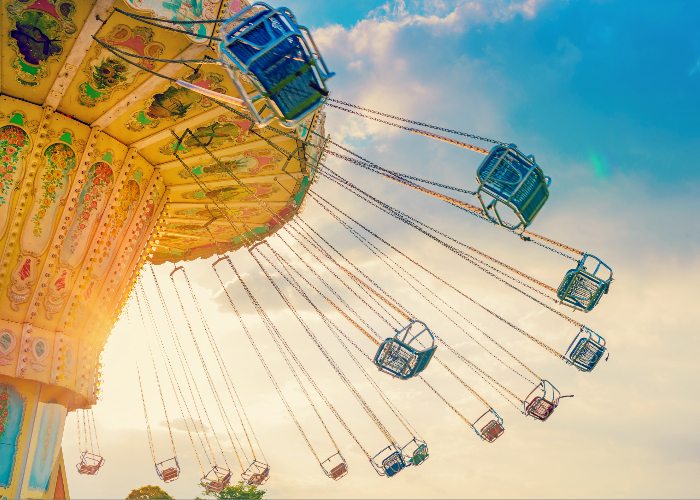 Safe and Reliable Communications in Entertainment
The momentum of technological advancements can be seen across several verticals. The entertainment industry is not immune to this trend as consumers demand more interactive experiences while venturing through theme parks. Chasing thrills, consumers' demands have moved through desiring the longest, to the tallest, to the fastest, to the most amount of twists or spirals. Now theme-park operators are challenged with providing new thrills in a creative solution with a small footprint.
Amusement-ride OEMs are challenged with creating solutions to meet these new requirements. These solutions are resulting in new innovations in the industry: These rides are becoming more interactive and multi-sensory. They are trackless, providing multiple possible paths. New types of media are being used onboard to create a more holistic experience.
While facing the challenge of creating these new innovative experiences, ride OEMs still need to comply with the typical requirements. These include compliance with safety regulations, ease of efficient use during operation, and reliable operation with little to no downtime. As a result of all of this, more data than ever is required in these applications, and ride OEMs are leveraging industrial electronics to accomplish this.
Ensuring safe thrills
Industrial control systems are used to automate these rides, and with the new innovations in the industry, they are required to do more than ever before. Onboard, industrial control systems are used with I/O and drives to manage safety, diagnostics, control, and even entertainment data. Considering safety is this industry's top priority, the data in this onboard control system is considered critical. The onboard data from the ride needs to be sent to the main control system over a wireless Ethernet IEEE 802.11 connection. This wireless Ethernet connection is critical in this application.
Reliable wireless connectivity is required in amusement applications, especially when safety data, like CIP Safety, is being sent between a mobile piece of equipment, like a ride, and the main control system. In these applications, an 802.11 radio must be connected to the mobile ride (client), with a wireless connection to an access point that is connected to the main control system. Several access points must be strategically mounted along the ride, to enable wireless connectivity as the ride moves. In these applications, the mobile client roams from one access point to another as it moves along its path. To ensure there are no communication faults with the control network, this roam must take as little time as possible (ms) and not lose any packets (data).
To help facilitate a reliable roam, radiating cable may be used as an antenna with the access points. The radiating cable may be mounted along the path of the ride, ensuring close proximity to the client antenna onboard the ride. This also helps to ensure a strong RF signal strength in potentially congested areas, like a theme park.
Critical considerations
It is critical in applications like this to configure the control system for reliable wireless communications. This means understanding that there is the possibility for interference resulting packet loss. In an EtherNet/IP™ network, this means configuring the RPI, or requested packet interval, to the value the application requires, as opposed to the fastest allowed by the controller. This is also true for defining the Timeout value. These two values are critical to ensure a reliable wireless connection.
It is also important to implement wireless hardware that is hardened for industrial applications. This means ensuring the hardware can operate in extreme environments, through extreme temperatures, vibrations and G-forces while maintaining a high MTTF (mean time to failure). Reliable hardware is critical to a reliable wireless connection.
In summary, as the amusement industry innovates to keep its customers entertained, it is important that the automation control system infrastructure can meet the application requirements, both today and in the future. More and more data is required in these applications, and considering the mobile nature of the application, this data has to be sent wirelessly. 802.11 high-speed wireless communication is the preferred wireless technology for these applications, and ProSoft's industry leading ultra-fast roaming ensures that safety and control data can be sent reliably.