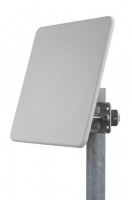 2.4 GHz Directional 12dBi Panel MIMO Antenna
A2412NJ3-DP
The A2412NJ3-DP is specially designed for MIMO (Multi Input, Multi Output) applications. Triple Polarization antenna provides coverage of 2.3-2.7 GHz frequency band in a single antenna radome. Light weight, durable, UV protected radome ensures reliable indoor or outdoor performance.
特性 优势
Features

Benefits

MIMO (Multi Input,Multi Output)

Three antennas within a single enclosure
Send more data simultaneously, or
Improve the ability of the radio to receive weak signals, therefore
better range

Directional

Allows increased performance on transmit and receive
Focused signal reduces interference from unwanted sources
Use on repeaters to maximize signal strength and reliability

Rugged and weatherproof

Suitable for demanding indoor or outdoor applications
Unobtrusive, aesthetically pleasing design
Easy and flexible wall or mast-mounted installation

Backed by ProSoft Technology

20-year history of delivering high-quality, reliable solutions designed with you in mind
Free, unlimited, worldwide Technical Support by phone anytime for pre-sale, set-up, or troubleshooting support help you get going sooner and stay running longer
Three-Year Warranty ensures reliability and protects against equipment failures
Free ProSoft Software tools tightly integrated with our gateway hardware...a simple and quick, total solution to help you make our gateways fit your applications
Indoor/outdoor radio network design assistance – accessory selection, path studies, and site survey
All antennas have been tested for compatibility with RadioLinx products. Please see the ProSoft Wireless Designer (PWD) configuration tool to assist you in choosing the best antenna for your application.
规格
Environmental

Operating Temperature Range

- 40°C to + 65°C

Vibration

According to IEC 60721-3-4

Wind Load

200 km/h (Survival)

Flammability

UL94

Water Proofing

IP-67

Humidity


ETS 300 019-1-4,EN 302 085 (Annex A.1.1)


Salt Fog


According to IEC 68-2-11

硬件
Electrical

Model

Vertical Polarization

Dual Slant Polarization

Frequency range

2.3 - 2.7 GHz

2.3 - 2.7 GHz

Gain

15 dBi ± 1 dBi

12 dBi ±1 dBi

VSWR, max.

1.7:1

1.7:1

3 dB Beam-Width, H-Plane, typ.

37 °

38 °

3 dB Beam-Width, E-Plane, typ.

21 °

38 °

Side Lobes, min.

-12 dB

-12 dB

Polarization

Dual Slant ±45ºand Vertical

Front to Back Ratio, min.

-30 dB

Input power, max

10 Watt

Input Impedance

50 Ohm

Lightning Protection

DC Grounded
Mechanical

Dimensions (HxWxD)

12"x 12"x 0.6" (305 x 305 x 15 mm)

Weight

3.3 lb (1.5 kg)

Connector

N-Female (x3)

Back Plane

Aluminum protected through chemical passivation

Radome

UV Protected Polycarbonate

Mount

Wall or Mast mount