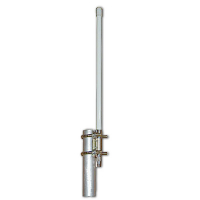 Multi Band (2.4 / 5.x GHz) Omni Mast Mount Antenna
A2506NJ-OC
The RadioLinx A2506NJ-OC Mast Mount Antenna provides multiband coverage in a rugged U.V. stable, plastic radome with an aluminum base that is ideal for indoor or outdoor applications. This antenna also provides a broad elevation pattern antenna radiation pattern that has been shaped to direct energy where it is needed, while suppressing the misdirected upper and lower sidelobe energy.
特性 优势
Mast mounted.
Multiple band coverage supports 2.4 GHz and 5.15-5.8 GHz broadband networks, eliminating the need for a second or third antenna in POP locations where mounting space is limited or costly.
Optimized elevation pattern. Minimizes misdirected energy by suppressing sidelobe energy and directing the radiated energy towards the desired area of coverage.
应用程序
All antennas have been tested for compatibility with RadioLinx products. Please see our Antenna Selection Guide to assist you in choosing the best antenna for your application.
规格
General Specifications
| | |
| --- | --- |
| Frequency | 2.4 - 2.48/5.15 - 5.85 GHz |
| Nominal Gain | 6dBi / 8dBi |
| Normal Impedance | 50 ohms |
| Maximum Power | 25 watts |
| Polarization | Vertical linear |
| VSWR | <2.0:1 |
| Operating Temp. | -40° to +85° C (-40° to 185° F) |
| Antenna Height | 26inches (660 mm) |
| Antenna Weight | 0.50 lbs (0.23 kg) |
| Radome Material | UV stable plastic |
| Connector | Type N female |
| Mounting Method | Mast Mounted |
| Wind Survival | 125 mph |
| Bending Moment at Rated Wind | 11.5 ft-lbs |
| Lateral Thrust at Rated Wind | 10.6 lbs |
硬件
Hardware Specifications
| | |
| --- | --- |
| Frequency | 2.4 - 2.48/5.15 - 5.85 GHz |
| Nominal Gain | 6dBi / 8dBi |
| Normal Impedance | 50 ohms |
| Maximum Power | 25 watts |
| Polarization | Vertical linear |
| VSWR | <2.0:1 |
| Operating Temp. | -40° to +85° C (-40° to 185° F) |
| Antenna Height | 26inches (660 mm) |
| Antenna Weight | 0.50 lbs (0.23 kg) |
| Radome Material | UV stable plastic |
| Connector | Type N female |
| Mounting Method | Mast Mounted |
| Wind Survival | 125 mph |
| Bending Moment at Rated Wind | 11.5 ft-lbs |
| Lateral Thrust at Rated Wind | 10.6 lbs |